It's always been a pain to remember to bring back the TomTom SatNav from my parents house, since it belongs to my mother, it always stays with her and when I need it, I borrow it. Especially when we're in the USA. But like I said, it's always a pain, as it can't be in two places at the same time.
So when TomTom announced they will be releasing their famous NavSat software for the iPhone (back in Feb or March) I was ecstatic.
So when it was released a few days ago, with all the different country and continent variations on the Apple App Store, I wasted no time in downloading it. But since I didn't have a car, it took me until today to give it a trial run.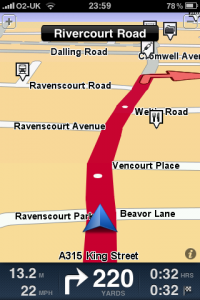 I attached my car lighter charger to the iPhone, and began by entering my destination and the type of routing I wanted. It pretty much behaved as you'd expect it to. If you've ever used a TomTom unit before, you're pretty much at home from the beginning. It obviously works faster than the TomTom Go 300 which I used, as the iPhone is a lot more powerful than the puny processor they stick in the TomTom units. The user interface is very much iPhone, with a subtle hints of TomTom.
In Go 300, I had to manually insert the traffic cameras POIs, but the iPhone version seemed to have those already built in. As I was driving, it made a beeping noise, which startled me, but I figured out what it was quickly as I also saw the speed camera along the road.
The GPS inside the iPhone is not as powerful as the ones built into the TomTom units, so it's a little behind when you're trying to find a street. But 1) I can live with that, and 2) I am sure with the help of the car kit, all that will be fixed. Probably my next purchase, when it's actually available.
Couple of things bug me about the actual way TomTom went about making this app. One is that you're going to have to buy a whole new application for each continent. They could have made one app, with the ability to load the regular maps available from TomToms website. Especially since people like me already have USA, UK and Europe maps. Would have made far more sense.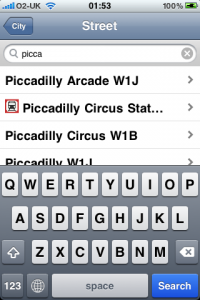 The other is that, besides the ability to jump to your iPhones address book and click on someone's address and navigate to it (which is pretty sweet), there aren't any other native app integrations. Would be nice to have some sort of a Google Map connectivity. That way you could quickly find a location on GMap app, and then pass that to the TomTom app. Since the Gmap app is a lot quicker and you can receive emails with addresses embedded. Or I suppose it could just get the address from the email, since with 3.0 firmware, you can access email within app.
As a whole, I was quite impressed with it. But what makes this so valuable to me is that I don't have to carry an extra device into the car, or abroad. I don't need to have 15 different charging cables in the car, and I don't have to worry about forgetting it and most of all, I don't have to borrow it from my parents every time I want to find a new address. Win Win Win and Win.
In general, the iPhone has seriously improved a lot of similar aspects of day to day life and I am constantly impressed with what other things I can do with it, as people write more, more and even more superb apps for it.
Final note, I am so glad I didn't get the "crash happy" Android G1, or G2.