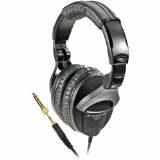 I've been looking for a really good pair of headphones for a while now. I used to have a pair of Sony ones that generated an amazing treble and pretty rocking bass. The mid-range wasn't amazing, but didn't let the headphones down.
A friend at work let me listen to his 3 year old Sennheiser HD280pro
, and I was blown away by two things. The sound quality was unreal, and the noise leak in or out was almost zero.
They look quite huge, and not the prettiest of headphones. But that's not why I bought them. I'm mostly going to be using them at home, or at my desk at work. Not the kind of headsets you'd want to use on the tube, though the friend at work wears them over his hat, in the tube.
UPDATE: So I just purchased the Sennheiser HD280pro. Lets see how long they take to arrive.